We just made one of Australia's best pregnancy pillows even better. Maternity and nursing in one? This is genius. 
Our NEW Nursing Cover does double duty, instantly transforming your trusty Butterfly Maternity Pillow into a supportive, portable and comfy nursing pillow for you and for bub. 
Designed to be baby-safe, with no zips, tabs or buttons, the Butterfly Maternity Nursing Cover is made from 100% GOTS certified cotton. Perfect to keep bub (and you) cool during feeds, machine washable, just gets softer with use. In three limited edition designs - choose your favourite, or grab them all (mums know we always need a spare for washing day).
The clever ties convert your maternity pillow to a stable, supportive wedge-shaped nursing pillow. Easy to keep bub close, and simple to position into the ideal shape for you - even single-handed. Relax your arm and shoulder, while your baby rests and feeds comfortably.
All our nursing covers are made from 100% GOTS certified cotton, for durability, comfort and easy care.
Stable and baby-safe
Baby-safe design with button-free, child-safe fabric ties
Securely ties to prevent dipping or gaps, creating a firm support for baby
Durable fabric
Our exclusive 100% GOTS certified covers are custom-desgined to be cool, easy care and machine washable
Hypoallergenic and light-weight for durability and wearability
Natural, synthetic-free fibre, ideal for baby's delicate skin
Being cotton, it absorbs moisture and doesn't hold on to smells
Easy on and off - just wash, insert your Butterfly Maternity Pillow, twist and tie
Compact, flexible design
Take-anywhere design - ideal for home, travel or wherever you choose to feed
Easy to tie, simple to place into the ideal position for you and your baby
Supports tummy-to-tummy feeding position
Easy care
100% Australian made removable cotton cover gets softer with every wash
Machine-washable at 50°C and tumble dry
Light/Medium weight to protect your Butterfly Maternity Pillow from spills or leaks
No buttons, zips or tabs- easy on and off design with child-safe fabric ties
Compact, flexible design
We're so confident you'll love the Butterfly Maternity Nursing Cover, we offer a 30 night risk free trial. If you're not happy with your cover, return it within 30 days of receiving your order and we'll refund your purchase price. Simply contact us for further details to arrange a return and refund.

Your Butterfly Maternity Cover has a 12 month warranty. This does not include damages inflicted by external factors.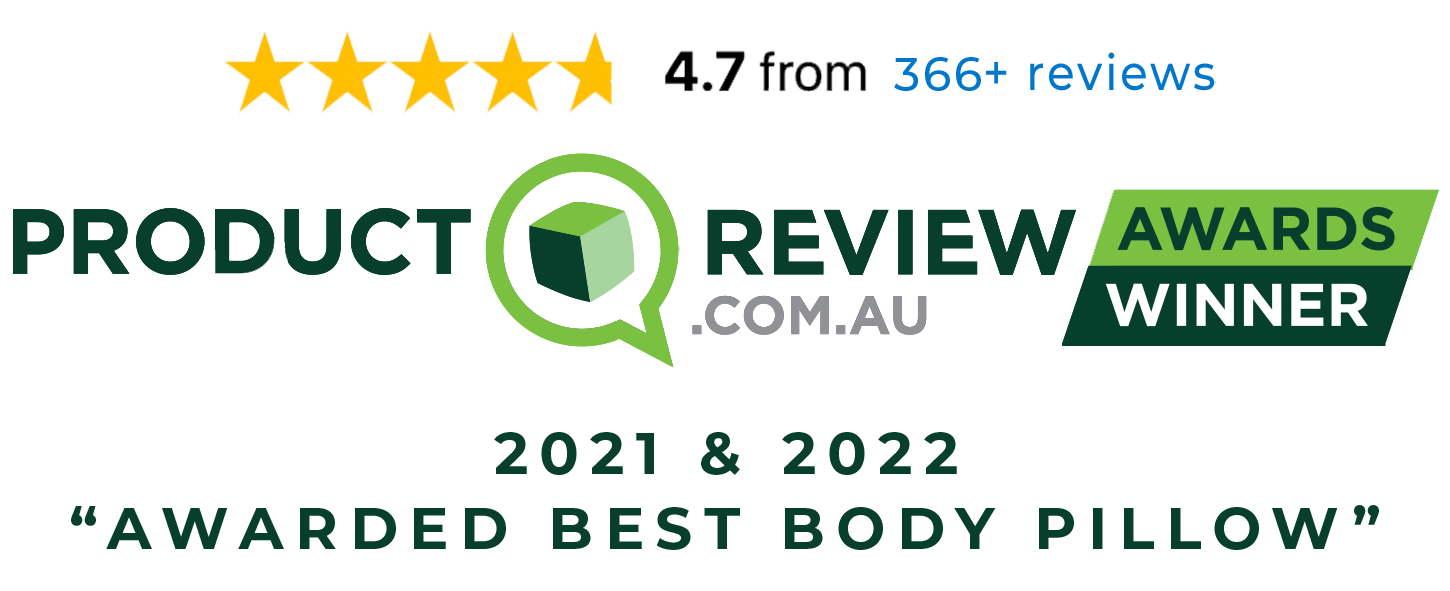 Skye T.
Verified Buyer
Game Changer
What a game changer! It is so comfortable and feels very supportive on both bump and back. I sleep so much better since using this and the best part is it doesn't take up half the bed like most full body pillows do.
Ria
Verified Buyer
Perfect Pregnancy Pillow
I'm obsessed with my pillow! It gives support for my bump and my back. Finally I can get comfy good night's sleep during pregnancy. I love how it doesn't take up the whole bed unlike other pillows. Highly recommend!
CPA
Verified Buyer
Can't live without this pillow!
After trying numerous pregnancy pillows this is the best I have tired. Very supportive of both stomach & back to give you a great nights sleep. Have not slept this well in months. So happy I bought this pillow.
Isabel C.
Verified Buyer
Best pregnancy purchase!
This pillow is amazing! At nearly $100 it's a bit of an investment but worth every cent. Both my back and my growing belly feel supported and comfortable throughout the night AND it doesn't get in the way of a morning snuggle with my partner!!
Lucy S.
Verified Buyer
Back pain saviour!
Absolutely loving the butterfly pillow! As a back sleeper I've struggled adjusting to sleeping on my side but this has helped ensure I don't wake up on my back and has helped hugely with my lower back pain! Highly recommend!!
Natalie M.
Verified Buyer
Every pregnant women's night lifesaver
I've tried 3 pillows but this butterfly pillow is the most effective among the rest as it supports your tummy and your back when sleeping side ways at night. Definitely recommended!